Lifeproof Cases Australia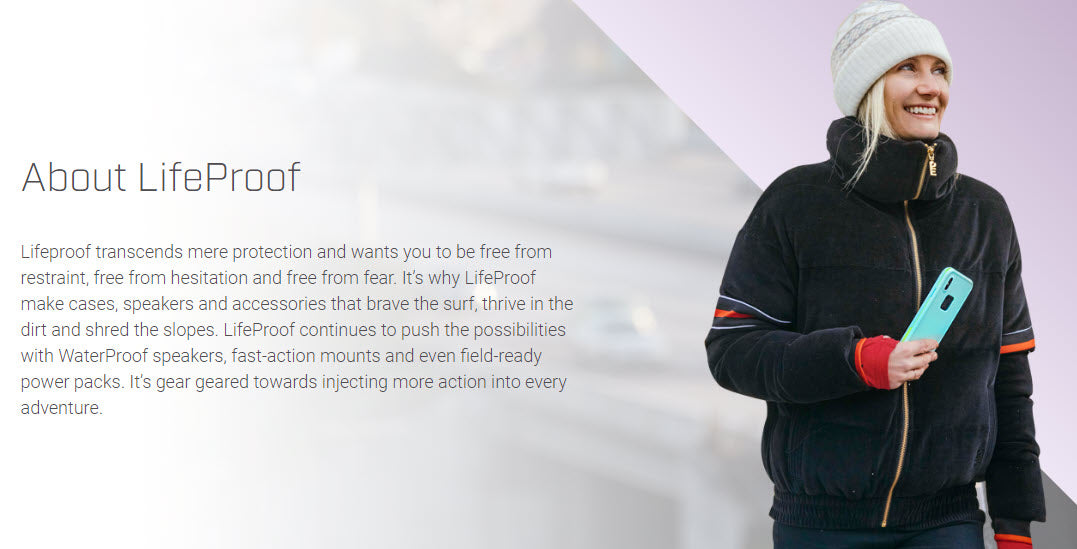 Sorry, there are no products in this collection
About LifeProof
Lifeproof transcends mere protection and wants you to be free from restraint, free from hesitation and free from fear. It's why LifeProof make cases, speakers and accessories that brave the surf, thrive in the dirt and shred the slopes. LifeProof continues to push the possibilities with WaterProof speakers, fast-action mounts and even field-ready power packs. It's gear geared towards injecting more action into every adventure.
Live LifeProof
It's why we make cases, speakers and accessories that brave the surf, thrive in the dirt, shred the slopes and bounce back from bails — so you can live in the moment, capture the proof and share amazing stories.
SLɅM SERIES
SLɅM is an ultra-thin case designed specifically for drop protection without sacrificing style. It's drop-tested to 6.6 feet (2 meters) and a raised front bevel protects from face-down impact. The two-piece design has a clear back to show off your device, while the rubberized front allows direct touchscreen access and features a splash of color around the edges of the case. Open ports leave headphone and charging access uninterrupted and the speakers free to deliver unmatched audio quality.
NËXT SERIES
NËXT boasts six layers of protection in an ultra-sleek package to keep your device safe from drops, dirt and snow. The two-piece outer shell wraps securely around the phone and delivers maximum durability and drop defense. A raised bevel bolsters drop and touchscreen protection while the display is left uncovered for direct access to the glass. A clear outer layer prevents scuffs, scrapes and scratches and an inner lining seals the case and phone from dirt. An audio-transparent mesh covers the speakers to block dust and debris while audio flows freely.
FRĒ SERIES
LifeProofs FRĒ series is the original 4-proof case with a built-in screen protector which seals your device against water, dirt and dust while still allowing full touchscreen sensitivity. 
Designed to optimise every feature and function including speakers, volume controls, touch screen and cameras, this waterproof case has gone through independent lab testing to meet military standards for shock and impact protection with an IP-68 rating for water, dirt and snow protection.
FLIP SERIES
FLiP open for funds, flip closed for fun. FLiP, the iPhone 11 wallet case, hides three card slots and a cash slot behind a back panel that always keeps your camera and display ready for action. And FLiP works flawlessly with mobile payments and Qi wireless charging, making it the new basic that's anything but basic.